Dear Scouts & Parents,
Welcome to Family Cub Scouting with Pack 901! We hope to describe the value of Scouting and answer questions below.
              Please Contact Us if you have any questions or to get your son or daughter started in Scouting.  
Cub Scouting Is Not Just For Boys...
 Pack 901 is proud to offer the Cub Scout program for girls and boys!
New to Cub Scouting? Please watch this short Welcome to Cub Scouting video
What We Do 
We learn new things and play fun games
We make stuff like Pinewood Derby cars, birdhouses, toolboxes, small boats, rockets, and crafts
Family camping, campfires, hikes, bicycle rodeos, Go See it trips to museums and science centers
Shoot bows and arrows, BB guns, and slingshots at summer camp or day camp
Earn patches, awards, and pins for accomplishing new adventures
Do community service projects which help other people and help youth learn about the environment and the world
Create

lifelong friends and memories
"Leave this world a little better than you found it."
 — Robert Baden-Powell, founder of the worldwide Scout Movement
Why Join?
Fun with a Purpose! The Cub Scouting program is uniquely designed to meet the needs of boys, girls, and their parents, through fun and challenging experiences families do together. 
Cub Scouting...
Is fun
Has ideals
Strengthens families
Helps develop interests and skills
Provides adventure
Has an advancement plan
Promotes diversity
Teaches duty to God and Country
Provides a year-round program
Is a positive place for girls and boys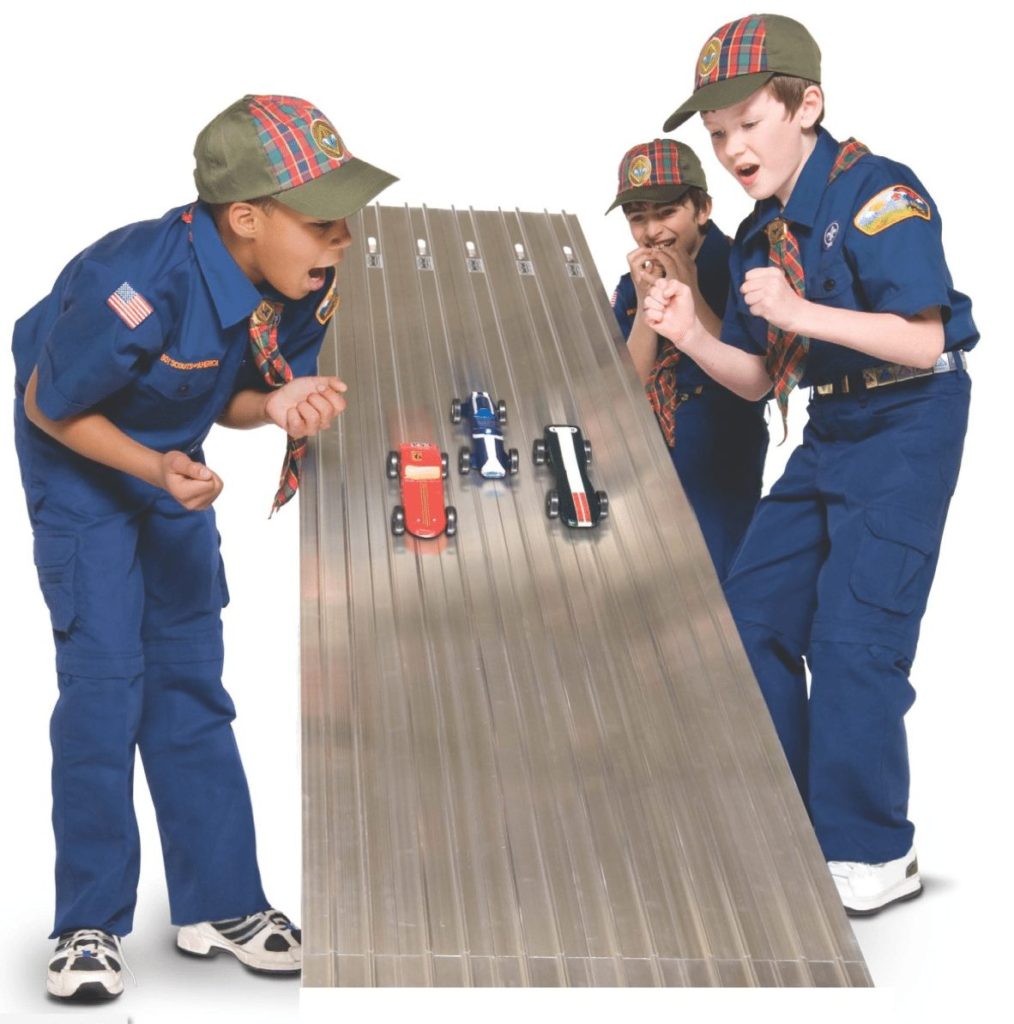 Kids grow up fast. Give your kids a valuable gift by encouraging them to join Cub Scouting today. The time you invest in your children today will make a difference in the person they become tomorrow.
Scouting is provided locally in neighborhoods across the country through churches, community organizations or other groups of dedicated citizens.
If you are interested in joining or finding out more information about Cub Scouts, you have several options:
Explore our website, visit Cub Scout Program Overview, or visit Scouting.org. There is a tremendous amount of information available for boys, girls, and parents.
Contact us now and we'll be happy to answer any questions you have and share our Scouting experiences with you.   
You are also invited to join our Pack at one of our events or drop-in and attend one of our meetings, Sundays at 5pm.
Family Involvement
You are a primary role model for your child. Children need your guidance along their Scouting path, not to do the work for them, but WITH them. All parents help their Scouts with advancement and assist their pack or den with special projects. Family involvement is essential to Cub Scouting's success. Cub Scouting is a family program. It gives families an opportunity to spend quality time together. Our leaders are also parents or grandparents of Scouts. It is the role of the leader to provide interest, skill, and time in developing a good program. The families provide leadership, help, and support for the Den and the Pack.
Here are some examples of family involvement:
Working with their Cub Scouts on advancement projects and activities
Attending meetings with their Cub Scout
Presenting advancement awards to their Cub Scout at Pack meetings
Becoming a Cub Scout Adult Leader- Cubmaster, Pack Treasurer, Den Leaders, etc
Providing ways for their Cub Scout to earn money he or she needs for pack dues and events
Helping at den meetings, on committees such as camping, activities, or on a specific project 
Providing refreshments
Providing transportation
Assisting with outings, skits, songs, and events
Helping teach an activity
Attending a family campout with their Cub Scout
Leader Training
Every Scout deserves a trained leader! At Pack 901 every volunteer adult leader is trained so he or she can successfully deliver the Scouting program.
Cub Scout Leaders must complete Youth Protection and Cub Scout Leader Specific training for their position.
Cubmasters and Assistant Cubmasters must complete Youth Protection, Cubmaster Specific training, and Basic Adult Leader Outdoor Orientation
Pack Committee Members must complete Youth Protection and Pack Committee Specific training
Additional monthly, quarterly, and annual training occurs at the district and council levels. Training of adults to successfully deliver the Scout program has evolved into a well-presented, thorough curriculum of online or in person courses. The result is a well-run program which benefits the Scouts and their families.
Pack 901 Organization
 Groups of boys and groups of girls of the same age or school grade level make up a den. We have Lion (Kindergarten), Tiger, Wolf, Bear, Webelos, and Arrow of Light Dens following school grade levels (or age) as depicted in the graphic below. Dens are led by a trained parent Den Leader. All of the Dens together make up the Pack. The Pack is led by the Cubmaster who helps Den Leaders deliver an awesome program. All our adult leadership are parents, guardians, or grandparents and volunteer their time and experience to deliver an outstanding program.
All of the Packs of Chesapeake, Portsmouth and Southside Norfolk make up the Three Rivers District, which in turn is part of the Tidewater Council that covers all of Southeast Virginia and Northeast North Carolina. More information can be found at http://www.tidewaterbsa.com.
Meetings
We generally meet each Sunday at 5PM. During the month, expect two to three den meetings and one pack meeting (all the dens together).
The pack and den meetings are at our sponsoring organization, St. Thomas Episcopal Church, 233 Mann Drive, Chesapeake, VA 23322. St. Thomas Episcopal (STE) is located on Cedar Road between Battlefield Boulevard and the Chesapeake Central Library.
Communications
This pack website contains all you need to know about pack and den happenings. You will be able to view details for scheduled events, sign-up, pay dues, see photos of past events and share your own, access helpful files and information as well as contact adult leaders and other Scout families. We also have a private Facebook Group for current Pack 901 families only where information is shared.
Uniforms
The uniform identifies the boys, girls, and adults with Cub Scouts and gives them a sense of belonging to the den, the pack, the BSA, and the worldwide Scouting movement. They may wear it to all den meetings, pack meetings and special pack activities. Uniforms may be purchased at the Tidewater Scout Shop, (757) 497-2688 or at Scoutshop.org We also have Pack Activity Shirts and Pack hats Cubs can wear to most den meetings and outdoor activities. Uniform cost for Lions (Kindergarten) is $25-$50 and older Scouts range from $75-120 depending on how many optional items you wish to purchase. 
Registration fees / Annual Dues 
Pack 901 families in making up the Pack Committee voted to charge $180 per year in dues, just $15 a month. If you are signing up for Cub Scouts for the first time online, you will pay a national registration/insurance fee $6.25 for each month left in the current year and a  a one time $25 BSA program admin fee. Subsequent years are just $180 a year for K-4th grades. 5th graders pay $170 as they typically move up to Scouts BSA Troops late in the Scouting year.  

What do annual dues get your Scout? Dues help cover the awards and patches Scouts earn, insurance, Scout recharter fees (the unit has to prepay each scout's registration for next year each December,) materials for den meeting activities, help cover campout costs, the pinewood derby kit, special activities like the Blue and Gold BSA birthday celebration and rank-up ceremony, certain other uniform items given to Scouts at the end of each school year, adult leader registration, and background check fees, and leader recognition items. Certain events will cost extra like Summer Camps, Day Camps, special events with local businesses, etc. We participate in several optional fundraisers during the year to help offset dues.
The costs of Scouting can very, but overall we feel it is still an excellent value.
Thank you for taking the time to explore Scouting with Pack 901. We hope to see you soon!                 
Yours in Scouting,
       Contact us now to start the adventure!
Ready to join now! Click this link to sign up with Pack 901 at my.scouting https://my.scouting.org/VES/OnlineReg/1.0.0/?tu=UF-MB-596paa0901 
This website is maintained by Pack 901, Chesapeake, Virginia volunteer Cub Scout Leaders for general information purposes only and not for profit.  All information is subject to change. Please visit https://www.scouting.org/ for all official Boy Scouts of America program information.